SPECTRA 7 for packaging
Many colors, one solution!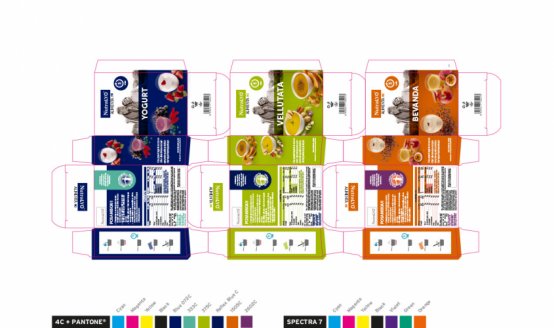 The use of many PANTONE® colors for an extended product portfolio requires a high degree of attention in order to achieve an optimal print result.
Companies work with different graphics for the brand visual. The use of many different PANTONE® colors has an attractive effect on the end user. Nevertheless, it makes sense to reduce the number of spot colors used for efficiency reasons.
With the unique printing technique developed by LONGO, 3 additional colors (orange, green and violet) are used in addition to the 4 main colors (CMYK). This allows us to increase the color gamut by 50% and to reproduce 90% of all PANTONE® colors in a single printing process.
SPECTRA 7 guarantees exceptional image quality for your packaging.
The print results guarantee:
· True color reproduction
· More brilliance and vibrancy
· More brightness
SPECTRA 7 - let us surprise you!