Digital Printing
Papermoon Kartensets
Digital printing in Augsburg
The competence centre for digital printing committed to innovation
At our location in Augsburg we specialise in the possibilities offered by digital printing. This means that we process your order even faster – and can print even the smallest of runs. Digital printing also allows us to print differing forms and content on a very wide range of materials, all very easily, turning digital into analogue with a snap of the fingers!
Corporate Printing Portals
From web to paper: customized and fully automatized printing
Our in-house developed marketing toolbox is a web-based e-commerce system that helps companies, their partners and their customers to produce advertising materials always in line with the corporate design and yet personalized. It supports employees and partners in creating uniform communication materials. It is possible to configure interfaces with the company's ERP systems and the entire user interface is designed in your corporate design. Since the printing portal is web-based, it is location-independent and can also be operated easily on mobile devices.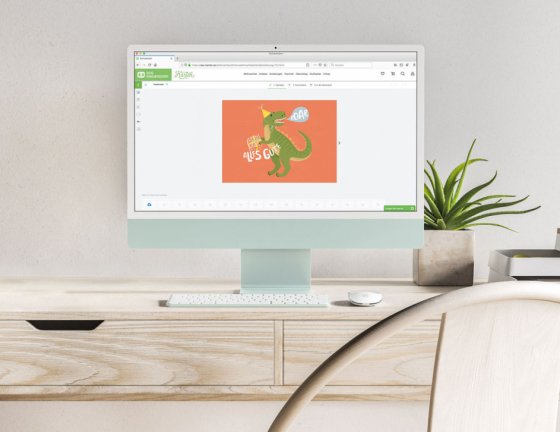 Large Format Print (LFP)
Regardless of format and material, we have the possibility to print a wide variety of products on our Fuji. We can print PVC, Forex and other panels just as well as roll material. Displays in small series are part of our repertoire as well as large paintings on canvas. For a hotel in the Pustertal, we have printed even tiles. There are really no limits to your ideas. With an special machine we can also cut or mill the different products, so everything can be done in-house.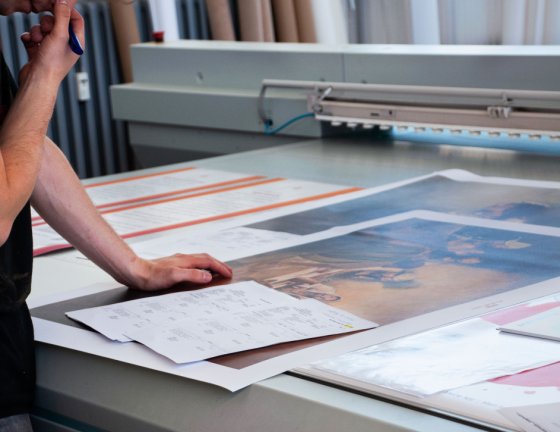 Digital printing
We print brochures, postcards, business cards, calendars and also books using sheet-fed digital printing. Digital printing allows us to produce smaller runs and deliver them faster than offset printing. By using the special color white in one printing machine and a varnish in the other, we also manage to generate refinements. Since 2022 we additionally have a letterpress machine in house, which enables us to do various other refinements (hot foil, blind embossing, embossing) in house.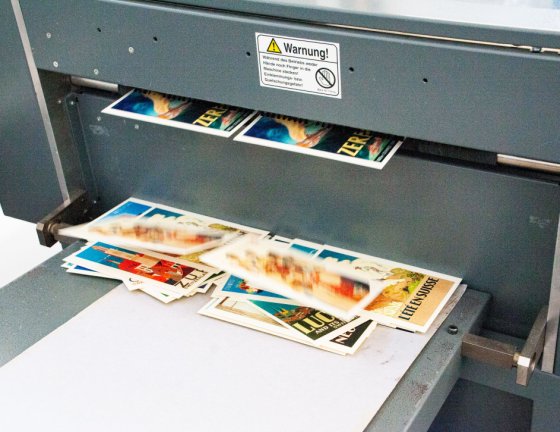 Letterpress
Since 2022 we have three letterpress machines in house. The oldtimers allow us to finish products in different ways. Color embossing, hot foil stamping or blind embossing can be made, which make each product look even more high-quality and unique. We have the possibility to produce clichés ourselves, which means that nothing prevents a smooth process and we accompany the entire production process from A to Z.
Would you like to learn more about Letterpress?
Click here to read more in our printspiration!