Art meets the art of printing: Fine Art Printing by LONGO
The last photo festival in Arles, where the illustrated book "John Cage: A mycological foray" (that was printed by us) was awarded, proved it again: Art books printed at LONGO in Bolzano collect prizes and awards and catch the eye of the public.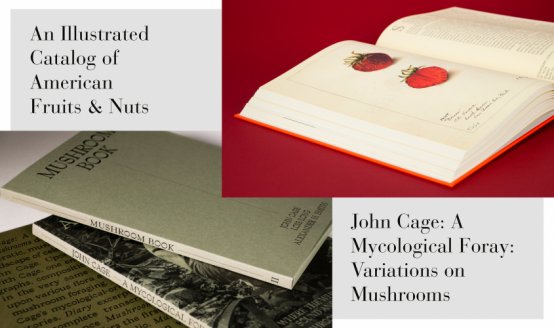 The reason for this is the excellent work of our prepress department, the know-how of our printers and the resulting outstanding print quality!
Unique printing results with Fine Art Printing
Photographers and artists are challenging customers. We think: rightly so! Their artwork, into which so much creativity, time and enthusiasm have flowed, spur our employees on to top performance.
When we produce a Fine Art photobook at LONGO in Bolzano, we determine each individual work step together with the artists, gallery owners and photographers. In our consultations, we show what can be achieved with the latest printing technology and with print enhancements. That is because we not only have more than 50 years of experience in high-end offset printing – we also know how to exploit the special possibilities of the book as medium!
Our goal is to work with the artists to print a book that is characterized by excellent image reproduction and high-quality equipment. Our team around Giuseppe Scarpelli attaches great importance to personal all-round support, ranging from layout and prepress to the choice of the right paper and print enhancement.
Last corrections before print approval? No problem with our prepress!
To achieve such top performance in Fine Art Print, first-class work must also be done before printing. Layout and image editing, retouching and creating the prepress – each of these steps requires not only a lot of expertise, but also the highest accuracy and concentration. LONGO has in-house experts for all of this! That's why, if necessary, you can have us make the final corrections and changes right before the final print approval – our team will take care of it for you.
Fine Art Printing with LONGO – a full success
The success of these art books from Atelier Éditions, which were managed by Giuseppe Scarpelli, our account manager for the American Fine Art Printing market, shows that the effort is worthwhile.
The illustrated book "A mycological foray", which shows photographs and texts from the estate of the experimental musician and composer John Cage, was awarded at the prestigious art festival "Les Rencontres de la Photographie" in Arles. Art News and Vogue Italia also ranked the work among the best art books of 2020.
A bibliophile gem is "An Illustrated Catalog of American Fruits & Nuts", which features more than 800 botanically accurate watercolors from the 19th and 20th centuries. The illustrated book, which places special demands on prepress and print quality due to the delicate yet accurate original illustrations, received euphoric reviews – including in the New York Times, Forbes magazine and the Washington Post.
For us, a Fine Art Printing is more than a picture book – it is an exhibition in book form and thus a permanent opportunity for artists, photographers, galleries and museums to present their art! Contact us – Giuseppe Scarpelli will be happy to advise you on all questions of Fine Art Printing!