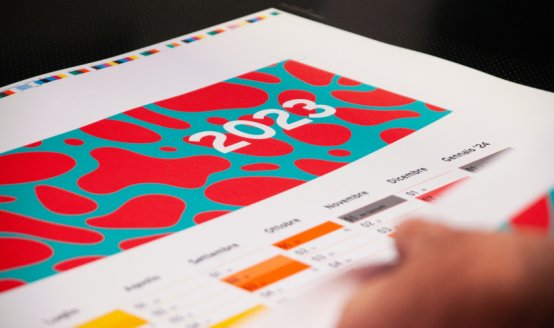 No more sweets, going to the gym twice a week, less smoking, running a marathon for once, starting to learn French - many of us started the new year with lots of good resolutions.
LONGO also made a resolution in 2022 - to find a new additional design element. Why? Well, it just creates more possibilities and a consistent design feature. Since we found our new design pattern, we naturally looked for a new resolution in 2023.
The new design element should be established in 2023. But that's not all - diligent blog readers know that "simple" is not exactly what we're all about. So we want to try to explain even better who we are, what we stand for, and what we do. Some know us as a high-quality printer, others as a creative agency with drive, others as a "solution finder" for complex packaging requirements. Dear reader, what are we in your mind?
No matter what the answer is, all three are correct, but we are not just one of each. So we are not "just" fine art printers or "just" logo designers or "just" packaging printers. Our claim is "print. creative. packaging." That pretty much sums it up. Since we at LONGO are women and men of action, I'll start today by telling you the meaning behind these three terms.
So here we go: LONGO is "more than just print."
PRINT
Offset Printing
We produce print products. High-quality magazines, books, folding cards, brochures, business cards. Photo books from the London art publisher MACK books; cookbooks, such as Anna Gliemer's; bookazines, such as the stayinart; art books from Hatje Cantz, Penguin Randomhouse or Schirmer Mosel; but also the image catalog for Finstral; product catalogs for Pircher Oberland or the SPA brochure for MOLIN Naturhotel. But that's not all, we print for large and small customers, for industrial companies, art publishers, for people like Marc Robert Lehmann (marine biologist and environmental activist), we print for small publishers, agencies, restaurants - strangely many in the Pustertal.
What all our customers have in common is that they care about their product, or products. There are precise or special requirements that require the many years of experience and consulting of Andi, Georg, Giuseppe or Francesco. No matter whether the book on apple paper or the cover with embossing, no matter whether several different papers in one book, standard printing or special printing technique, we know what to do. At least most of the time, sometimes we too have to look for new solutions, combine printing techniques and experiment with alternative approaches. And that's what distinguishes us.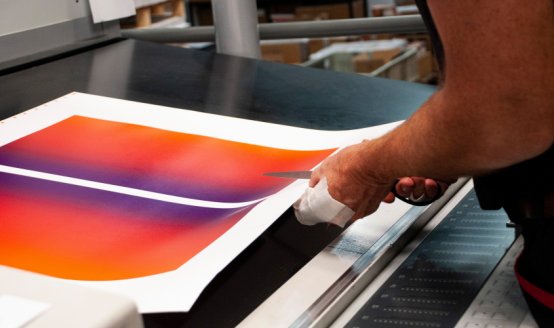 Digital Printing
However, it is not only in offset printing that we have to look for new solutions and test alternative approaches; we are also constantly developing in digital printing. From large format printing (LFP) such as stand-up displays, wallpaper, huge images or photographs printed on a wide variety of materials to business cards, small runs of brochures - on demand. On demand mainly thanks to our marketing toolbox - a system that enables companies to order marketing material on demand in the right corporate design. Since 2022, we have even started doing special finishing jobs in Augsburg. We have an old-timer from Heidelberg that permits us to do really cool embossing (letterpress is the correct term). Danny knows how to handle the machine and Tom creates the appropriate clichés.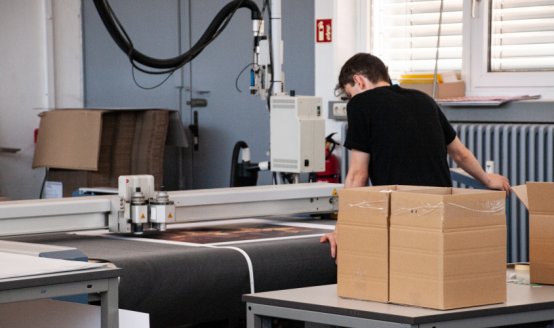 CREATIVE
Creative Agency
The alternative approach also applies to the next of our "business units" - our creative department. As in the rest of our units, this one is also characterized by " makers". Agencies are known for after-works, cool-kids, brainstorming sessions, endless concepts and meter-long texts about the color choice of the new logo. Mara, Herri, Judith and Simone, do brainstormings as well and are definitely "cool-kids". But since LONGO Creative comes from a production company, we are definitely practically oriented. We know exactly what is realizable and are - as already mentioned at the beginning - women and men of action. Therefore, we prefer coordinating directly with our customers rather than writing novels about color selection. Although we consciously decide on colors, we usually only need a paragraph to explain why. This works well for us - we create logos like the one for Berghotel Kason, define corporate designs like the one for the Alter Schlachthof, create ads for Stochas, layout journals for Nordwal, design campaigns for Sportler.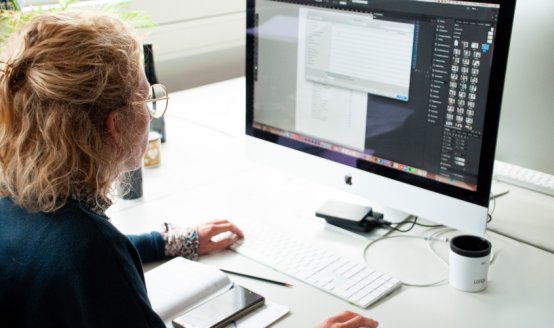 Prepress
Our prepress department does less conceptual work and more image processing, data preparation and layout. Jakob, Adele, Simone, Lisi, Christian and Julia make sure everything is not only ready-to-print but also matching the respective paper. Our prepress plays a key role in our print quality. Customers like Gräfe und Unzer have been LONGO customers for years because Adele simply knows how to do it. Art publishers now send us the data to prepare it for printing, they trust us.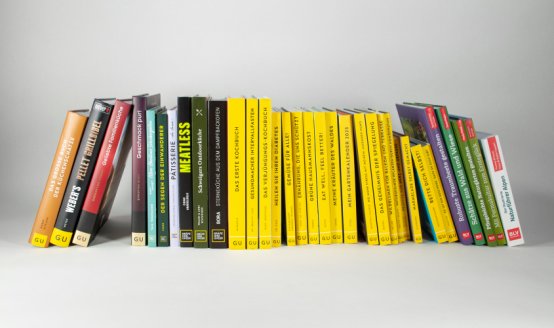 PACKAGING
As announced, we also have a packaging department. Between muesli packaging for Fuchs, an olive tree packaging for Innerhofer and boxes for architect hand samples for Finstral, Nicola and Fede have really produced quite a few things here. Thinking differently in terms of creating an Advent calendars, printing Loacker's special editions, drawing an anniversary box for Forst and producing refined wine boxes for the Kaltern Winery are all daily business here. Drawn by Fede, positioned by Jakob, printed by Luigi, die-cut by Martin and processed by Alex - then everything is ready to be shipped by Arnold or Raimondo. Quite a lot of names, I know - you don't have to remember all of them, I just wanted to show how many people are involved in such a process (and I left out steps like Robert's paper acquisition...).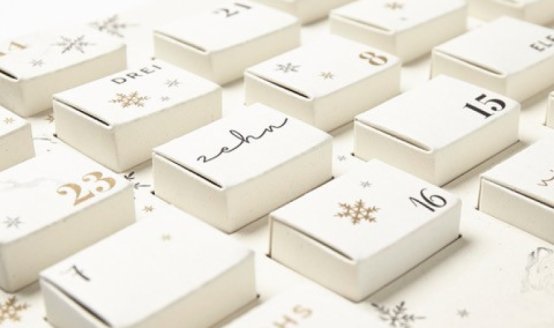 So it's true, we're obviously a print shop, but as you've noticed, we're also so much more.
All business units exist side by side, but create a mutually complementary cooperation. What links all the units is creativity, and that doesn't just mean a creative approach to layouts, logos or campaigns, but also a creative approach to print projects that are not "standard".
Another core element of all LONGO business units is versatility, books and calendars, big print and business cards, corporate designs and campaigns, cereal boxes and card game boxes. The passion for what we do, for print itself and the concepts we come up with in the agency. But above all, the fact that we are a production company - that also applies to the agency - we think, make, produce, act, implement. We turn ideas into something tangible, whether in the form of a book or a cool campaign.
Last but not least: COLOR. Color is definitely a distinguishing factor, along with consulting and service, that differentiates us from others. We can do color, and we do it really well. That's exactly what is shown in our 2022 designed additional design element. The new business materials were designed with high contrast and printed in Spectra7 (one of our special printing techniques) on uncoated paper.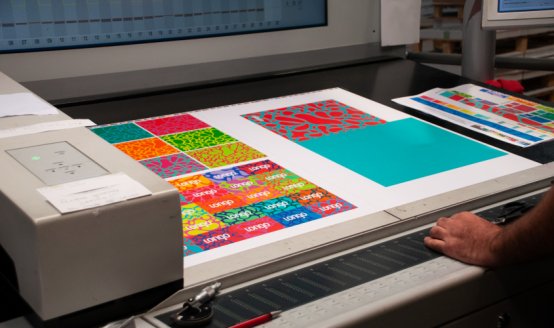 Looks amazing. To be honest, the enthusiasm when we showed Robert, Jakob and Martin our designs was limited. The graphic was well received, don't get me wrong. But to print everything this way is a real challenge. Nevertheless, it was a success. Now we have many different colorful business cards and bright calendars and were able to convince everyone in the end 😉
As a special on top, we still have our wonderful partners, Medialike and Clicktext. Both support us in different ways on different levels. While one takes care of book distribution and are Amazon specialists; the other is our ace in the hole when clients require content for the magazines and brochures we are allowed to print (no matter what language <3).
At the beginning of the blog entry I said that we at LONGO are women and men of action - it's true. We implement and are real doers. When I, Maya, personally look back on my New Year's resolutions at the end of January, then I have done quite well being a "woman of action" - I have done so many things, unfortunately not all of them are in line with my initial resolutions. The birthday cake was too inviting and the aperitivo while skiing simply irresistible. But at least we as LONGO continue our strategy, stay persistent and pull our thing through.
And what about you, dear reader? Still studying French, not smoking and jogging every day? In case you're not, don't worry, next year there'll be a new beginning for lots of great resolutions - and otherwise just start next Monday 😉 ...