SPECTRA 7
Unattainable colours!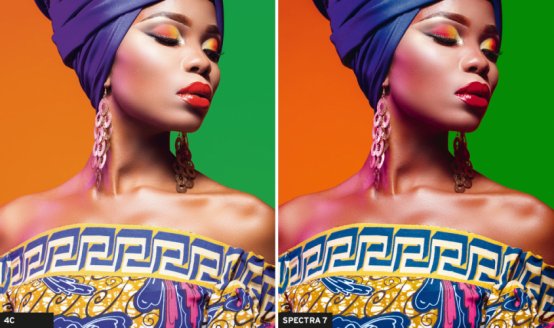 Picture-rich printed media should do two things: the photos should talk to the reader, and the colours should transmit feelings and impressions successfully. Printed colours, however, are often not as vibrant and vivid as you would like them
to be.
The secret lies in how colours are processed, and in the profiles and technology that are applied. Optimal chromatic reproduction of bright colours and nuances has always been of great importance to LONGO; and with SPECTRA 7, the exclusive printing technology developed by our Research & Development team, we have made it all possible!
With SPECTRA 7, in addition to the 4 basic print colours (CMYK), 3 other colours (orange, green, violet) are also used: In comparison with current standards, the colour space is expanded by about 30%, and 90% of all PANTONE® colours can be accurately reproduced. With constant advance in pigmentation and the greatest of care in prepress, calibration and profiling, your pictures get the intensity and luminosity they deserve.
True-to-original results guarantee more:
· Brilliance and clarity
· Liveliness and luminosity
· Dynamics and expressiveness
SPECTRA 7 — for dazzling images!