SUSTAINABLE PAPER – APPLE PAPER
How to make complex corporate values easily visible.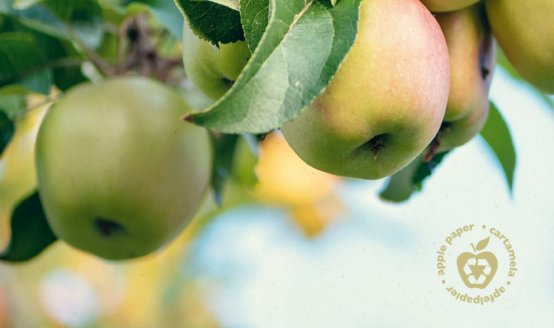 Corporate values such as environmental awareness, sustainability and proximity to nature are a special challenge for our customers in their brand communication. How can the choice of material for a print product clearly show that the company lives up to its values? Is there even an eco-paper that is suitable for high-quality design and with which you can stand out clearly at the same time from the competition? We use such a paper for environmentally conscious companies: Cartamela, apple paper from South Tyrol.
What is apple paper anyway?
Cartamela Apple Paper is a recycled paper made from the press residues of apple juice production. Over 400,000 tonnes of fruit waste accumulate throughout the EU every year. Due to the risk of fungus, this pomace must not be used on fields or as animal feed, and is therefore currently disposed of.
In 2003 Albert Volcan, managing director of the biorecycling company "Eco apple" of Italy, developed a process that ensures an innovative and sustainable reuse of apple peel. The Cartamela apple paper comes from South Tyrol, an area that is famous for its apples. Every year, a great deal of apple pomace is produced, which is made into paper by Frumat, which currently holds the patent for Cartamela.
To produce the apple paper, the cellulosic apple remnants are dried and then further processed into organic paper. This paper is just as durable as conventional recycled paper and can be printed and processed just as well.
One of the most common questions is whether apple paper smells or tastes like apples. No, it's not like that! The color also corresponds to normal paper, but it has a very own, fine structure. If you have a product made of apple paper in your hand, you immediately realize that it is something special!
What exactly can you do with apple paper?
Our printers and packaging specialists have already gained a lot of experience with this special paper. Here are some examples of printed paper products printed by LONGO:
For Herbaria, producer of organic gourmet spices, we have developed two packaging solutions. The high-quality packaging of the pepper sets, and the inner workings of the Herbaria lunch box, which contains three small spice mills, are made of apple paper and thus perfectly match the corporate values: Herbaria stands for organic quality and sustainability.
With Papermoon, Thiele Publishing launched a papeterie brand in 2017, whose high-quality greeting cards are printed on paper in digital printing at LONGO Augsburg.
With the cookbook "A modern Way to Eat" by Anna Jones, Mosaik (Randomhouse) published the world's first book printed on apple paper. Here, the content of vegan and modern recipes and the pressure on sustainable and regional recycled paper fit together perfectly. In addition, Anna Jones second cookbook "A Modern Way to Cook" was printed on apple paper.
What is apple paper especially suitable for and what needs to be considered when printing?
These print products and packaging solutions show what apple paper is particularly suitable for:
• For companies that want to transport their values with the choice of material
• For an environmentally conscious target group that appreciates the special
• For people, to whom haptics and sensual experience mean a lot
Apple paper is an uncoated paper that requires special care when converting images. Our pre-press specialists have already gained a great deal of experience with this recycled paper and know exactly what has to be observed during processing.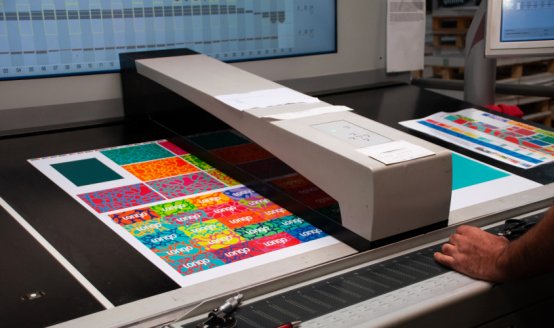 Our conclusion to the Cartamela apple paper
Cartamela apple paper is a recycled paper with a special feel, which can be processed in the printing process just like other papers. This paper convinces you with its special value and its ecological awareness, sustainability and naturalness. Talk to us - we are happy to show you more examples!
Apple paper neither smells nor tastes of apples. It is exceptionally soft in structure, slightly creamy in colour and wonderfully pleasing to the touch, characteristics which render it ideal for an incredibly wide variety of applications. It is every bit as resistant as regular recycled paper. With our many years of experience and expertise in the pre-press sector, we are in a position to print and process apple paper to perfection.
Above all, we recommend using apple paper for premium letterpress printing and for premium packaging solutions.
But that's not all: This paper is also suitable for all areas of communication where commitment to sustainability is emphasised through the materials a company opts to use. Environmental impact is not only an easy concept to market, it is also readily available.
The advantages of apple paper:
· Soft in structure and pleasing to the touch
· Sustainable recycled product
· Suitable for a wide array of purposes