SUSTAINABLE PAPER – APPLE PAPER
From apple tree to apple paper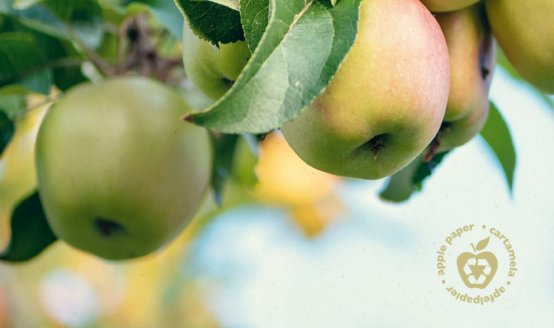 Normally, the residue from apple juice pro-duction cannot be reused. Through a specialised recycling and reprocessing procedure it can, however, be transformed into a precious, outstandingly sustainable product: Apple paper.
Apple paper neither smells nor tastes of apples. It is exceptionally soft in structure, slightly creamy in colour and wonderfully pleasing to the touch, characteristics which render it ideal for an incredibly wide variety of applications. It is every bit as resistant as regular recycled paper. With our many years of experience and expertise in the pre-press sector, we are in a position to print and process apple paper to perfection.
Above all, we recommend using apple paper for premium letterpress printing and for premium packaging solutions.
But that's not all: This paper is also suitable for all areas of communication where commitment to sustainability is emphasised through the materials a company opts to use. Environmental impact is not only an easy concept to market, it is also readily available.
The advantages of apple paper:
· Soft in structure and pleasing to the touch
· Sustainable recycled product
· Suitable for a wide array of purposes