Yoga before meetings, silence in the canteen
More and more companies are offering their staff mindfulness programmes, ping-pong tournaments, and massage breaks — but are these sustainable measures to reduce stress, or simply a way to polish their image? What does mindful working really mean?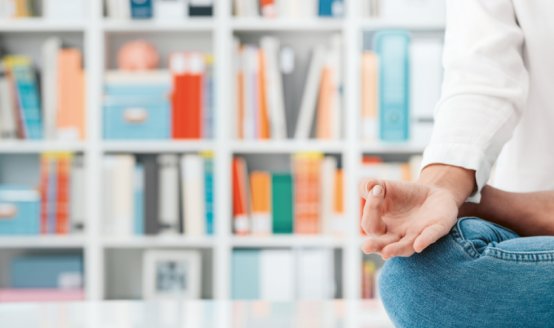 "Imagine you could go to work every day with a smile on your face. What if your job fully satisfied you and made you truly happy?"
So the blurb from the bestseller "The Big Five for Life" by John Strelecky.
Drawing on the story of a wonderful friendship, the author shows how we can harmonise our personal life goals with our work, and speaks to an entire generation from the soul. It is not only work that has changed in our digital world, but also people's attitude towards it.
Combining everything in the best possible way — and all without stress
A whole generation no longer simply wants to work to live, but rather to experience work as a meaningful part of life. Paradoxically, three out of four employees in Germany feel comfortable in their workplace and find their jobs fulfilling: yet at the same time nine out of ten Germans feel stressed by their work, owing to the blending of work and life — to a large extent attributable to digitisation — where the traditional separation of work and leisure time is disrupted. The consequence is a growing desire for peacefulness and greater focus.
Deceleration and mindfulness are the buzzwords of today! Perhaps we are all just slaves of our modern times and cannot (yet) deal with the digital spirits that we have ourselves summoned up? Yet each day still has 24 hours for everyone who has helped change this world; nothing has changed. Only the pace is now somehow uncontrollable, time seems to vanish, we are all inundated with stimuli and tasks beset us simultaneously from several sides at once. The fact that the mindfulness movement is not merely short-term hype, but rather the result of an achievement-oriented society that lacks a safety valve is reflected by its increasing popularity.
The enterprise as a better-life coach
It is hardly a recent discovery that eight to ten hours of sustained individual performance are just not possible. Work no longer means an assembly-line job — technology has long since replaced us in these areas. It is in particular knowledge-based work — e.g. creativity — that is difficult to produce nonstop. How do the big players of this world approach the problem?
The Daimler-Benz automotive group offers its employees business yoga as a way to find clarity and focus in their hectic everyday lives; Google has "Search inside yourself", a mindfulness programme for personnel; SAP has introduced meditation workshops for its workforce as well as "Mindful lunches" where all eat staff in silence. But does opting out from the hustle and bustle via meditation for a while actually solve the problem? Can it help?
Isn't it a contradiction in terms that, on the one hand, yoga classes are offered while on the other hand there is a requirement for "24/7 availability" and working at any time, in any place? Can an hour of yoga in the company actually reduce the stress produced by this "Always On" mentality? Could it, in fact, be that – at least in some cases — companies are making use of the desire on the part of their staff for breaks, downtime, etc. to polish their own image with such offers, while avoiding tackling the problem at the root — quite simply because they can't?
Mindfulness comes from within
Maybe the problem is the work-life blending itself. In a world where digital detox programmes for the world's business leaders are ever more in demand, no yoga class is likely to solve the basic problem. The work-life balance could perhaps look quite different — compatibility does not necessarily mean amalgamation.
Personal responsibility ultimately means knowing ourselves: understanding when body and/or mind need a short break — perhaps investing energy in a time management seminar so that a lasting change can be made to feelings of stress, as no amount of massage will otherwise help. And maybe the good old 9-to-5 model, seen by many as "old-fashioned", is not so bad after all? Who doesn't want to stop work at some point? Or take some time off? Or even savour the feeling of a job well done then enjoying the massage and yoga sessions outside the firm, in our own precious free time?
But, in the end, mindfulness at work begins with the individual. Choosing priorities, setting boundaries, concentrating, focusing, even at times saying "no" — it is just not possible to hand over responsibility for ourselves or our wellbeing at work to the company. There are numerous tips for more mindful working, although most can be summarised in one sentence: apply your mind to the matter in hand, work consciously and deliberately make time for breaks. Maybe — indeed probably! —
this is also a matter of importance away from the workplace.