Anything but dead: the new print
"Print is dead!" was the cry of the trend forecasters of this world, digitisation firmly in mind. This prediction has, however, turned out to be wrong: print is not dead but — on the contrary — has never been so alive!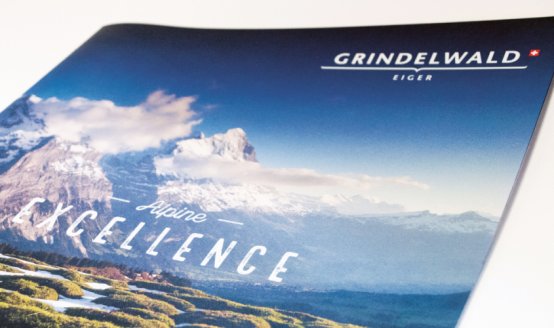 Not everything offering print content can be replaced by digital methods: readers should not only seek out print, but it should also entice them. Printed material can be read in the bath, it offers a chance to take a break. It is highly mobile, can be presented on a shelf, does not rely on internet access or battery power and is above all a pleasure to read — more than any other medium. Whether a book or a magazine, a newspaper or a letter — all these possess an emotional value that is linked to touch and thus to a sensory experience.
The phenomenon of digitisation has therefore not replaced printed material, as is generally assumed, but rather given it to a whole new significance. Quality, not quantity, is the order of the day: no company commissions a haphazard number of print types these days. But, even though the amount of printed material has shrunk, print has gained enormously in value as part of the marketing mix!
This applies in particular to the tourism sector which, more than most other sectors, depends on images, precise headlines, good information, and a creative, emotional approach. There will be no need in future for the immense flood of printed material and lists of hotels, nor for the interminable distribution of flyers at regional fairs — in brief, no more money wasted on short-lived print products. This does not mean that print is dead, however — rather that it will live on in the form of high-quality products that meet demanding aesthetic and tactile standards.
Less quantity, more quality — perhaps in the form of interesting and readable travel magazines that we can read at home in our spare time while relaxing on the sofa and perhaps, thanks to their quality, even regularly pick up over time. Practical and in-depth details — such as information about hotels, hiking trails, restaurants, etc. — can then be discovered via other channels. Print media are changing from simple lists into quality media, with no limits on creativity — today, even a menu can be given its own distinctive appearance! LONGO AG can tell you all about it.
"We are often more aware of high-quality print products than of fast-moving information in a digital format: they often allow messages to be more successfully anchored in the customer's mind."
Bruno Hauswirth, managing director, Grindelwald Tourismus, grindelwald.swiss
"Our menu takes the form of a lavishly produced magazine that we distribute throughout the region. We clearly see from the results that our high-quality Eat&Read magazine stimulates people to sample the culinary highlights on our menu."
Ivan Marzola, warden, Sonnbühel and Emilio Comici huts, sonnbuehel.at, rifugiocomici.com
"Our new hotel folder clearly provides our guests with both inspiration and information! Individually created for us, the folders is a delight and a joy. Its exclusive appearance shows guests from the outset just how we strive to ensure that they will enjoy a stay of the very highest quality."
Herbert Steger, proprietor, Amonti & Lunaris Wellnessresort, wellnessresort.it