Packagingdesign: Because first impressions last!
Nicola Pizzini on daily challenges, innovation & motivation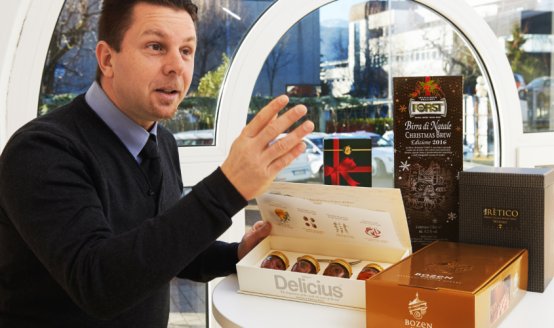 Packaging and packagingdesign is far more than just a way to protect a product and aid in its transport. Packaging is quite literally the first point of contact that people have with a product. First impressions last, as they say, and this also frequently applies to purchasing decisions. Packaging means emotion and image, underlining the product's differentiation. Packaging sends a message.
Because outside appearances also count
LONGO was formed in 1957 and thus today has decades of experience in the fields of both printing and packaging. Owing to the constantly growing requirements and rising demand, in 2010 a decision was taken to specialise further in packaging. The last six years have seen numerous developments, as Nicola Pizzini, head of packaging at LONGO, relates.
"High-quality, fast and flexible"
"Packagingdesign is always a balancing act between the desire for something special and the need to keep within budget. At LONGO we come up with strategies every day to realise unusual packaging so that the product's end price – which is ultimately determined by the market – can be maintained, despite any creative and special requirements. This means rapid, top-quality work and constant flexibility on both the creative and the production sides."
Full service – optional!
Flexibility for Nicola means that LONGO can offer an all-round packaging service, from the development of new ideas and designs through to the finished product, with the customer free to decide which of the packaging phases are to be handled by LONGO. "Customers usually come to us with an initial idea or even a concrete notion. The customer's wishes are expanded and further developed together. Our creative department takes care of the graphic design or adaptation of existing corporate designs, and a 3D simulation of the packaging is co-developed for presentation to the customer.
Once the customer approves the rendering, a first sample or mock up is produced. The cutting die is then prepared, the packaging is printed in-house on the appropriate machines, then is finally cut and folded. LONGO can cover every aspect, from Hybrid Print, Gold and Silverlamination and UV-varnish.
Innovation is motivation
What Nicola finds exciting about his work – which is at the same time a unique selling point for LONGO – is dealing with individual customer requests. Sometimes completely new packaging has to be invented, while in other cases a corporate design is to be effectively reproduced. "There is a solution for everything – you simply have to find it!" is his approach. "This way, my work is a ceaseless stream of innovation."
LONGO too has made innovation its guiding principle in this field. According to Pizzini, two of the megatrends to be seen in packaging are sustainability and reducing matters to the essential. "The reduction of packaging to what is absolutely necessary is on the one hand an aesthetic requirement, while on the other it is an indicator of sustainable thinking as regards packaging. It is also a matter of recognising trends promptly so as to be able to respond to them. Developments in packaging are moving very rapidly. Our motivation is not just to keep up, but to think one step ahead."