"The best people are just good enough"
Günther Longo on recruitment, multi-specialists and millennials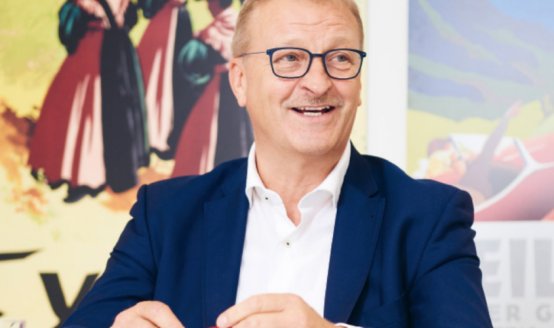 The LONGO website states: "To make a name for yourself on the market, you should always set an example and remain one step ahead" — and this, in a phrase, encapsulates the company's strategy when it comes to staff recruitment and management. In the following interview, owner Günther Longo explains how his company handles — even anticipates — changes in the print and jobs markets, and how the entry of millennials into the workplace affects staff recruitment and development.

How does LONGO look for employees — which channels do you use?
Günther Longo: For some time now we have been making good use of social media for recruitment. Especially when it comes to the creative field, we get good responses and interesting applications via LinkedIn, Xing and even Facebook. There is hardly any reaction to advertisements in the print media, however — and what little there has been was not what we were looking for. We also had a very laid-back, even pushy radio ad and that worked well. In addition, we publish current job listings on our own website, of course, mostly with success. We have so far made only very limited use of head-hunters or job agencies and then more for management positions — but it worked out well.
Millennials, the generation born between the early 1980s and mid 1990s, are increasingly coming onto the labour market. Is there a difference when looking to recruit Generation Y?
Yes and no. For the creative professions, social media work very well for millennials. In more traditional professions, however, things are different: millennials will respond here to appealing, "cool" job advertisements, but we reach most of the candidates in this age group for such jobs via word of mouth. This of course requires a good brand as an employer: if you have one, your own staff will spread the word among their friends and acquaintances. This applies not only to specifically advertised vacancies, but also and especially when we are looking for good employees more generally. When capable, interesting people appear, we are willing to hire them even if we have no immediate need at that time. Our view is that the best people are just good enough, especially in our fast-moving times.
Is this your way of attempting to counteract impending or existing skills shortages in the sector?
When it comes to skills shortages, you have to look why they exist in the first place. Until 2006 the print industry was a profitable business. Print products were in use everywhere; media designers, printers and bookbinders were secure in a well-paid profession. An innovative company that offered challenges to its staff was also attractive. The new media brought about a complete collapse of the traditional basic business, although it still forms an important part of our activity. The vocational schools perhaps reacted too late to redefine the printer's job description. A printer is nowadays no longer "just" a printer: he or she must be able understand colour ranges and deal with paints and finishes. Direct customer contact is now also part of the profession.
So yes, our human resources strategy absolutely requires us always to be on the lookout for the best staff, even if we were not specifically looking for them at the time.
Does that also mean that LONGO would consider those making a career change?
Absolutely, yes! For example, several years ago we started to produce packaging. There is no corresponding job profile in this part of the world. So, for instance, we might consider a surveyor who is looking for a change of career. Such people can offer plenty of experience in drawing and planning forms: exactly the skills that are required in the field of packaging.
Has the application process changed?
One change is that candidates come in more than once for an interview. At LONGO we also apply the principle of having two, three or even four interviewers so that more than one person is involved within the application process. This is because millennials in particular are often not easy people to assess, as many are very introverted. But at the same time they learn to present themselves professionally in the course of their study and as advantageously as possible — which sometimes causes them to overestimate their abilities. Conversely, it may happen that unsuspected talents are lying dormant in an introverted applicant who is maybe not so good at selling him- or herself. The aim is to reveal these in the various interview rounds and perhaps in one or two probationary days. We also offer numerous placements for high schools, vocational schools and for college students. One thing we do not do is to set applicants tasks that they then have to perform under pressure on the spot. These are artificial situations that may be useful for highly specialised professions, but which we generally do not use.
We really try to speak openly with one another and do not bluff as a business — that won't work. We for example made that clear recently with a very honest, unvarnished recruiting video (see pictures below and QR-Code): we have a great business and exciting careers; there is just as much room for creative minds with us as there is for e-commerce specialists or printers and bookbinders. We do research and development, we are developing online platforms... But there is neither a campus, nor a fitness studio, nor rest and meditation rooms. We are not a wellness hotel. This is all simply veneer in my opinion, and we don't want that.
Your orientation as a communications company with a focus on print requires versatile staff, or multi-specialists as you call them at LONGO. How did this term originate and why has LONGO chosen this path?
Changes in the print industry have seen sub-areas arise from business units. From a printing company with clearly defined job descriptions, technological developments then led to the creation of a communication company that of course still needed well-trained staff. At the same time, we found that the market itself had changed: in contrast to the past, today we almost always have peaks in our work — so that we for example then need 90 instead of the usual 30 employees in a particular area for one month. This depends of the decision-making processes of our customers as well as on the economic and political situation. You have to be able to respond very quickly and flexibly. However, a company must be of a certain size in order to be able to serve not only small but also internationally oriented large customers successfully — but it is not economically possible to recruit new staff for peaks, then keep them on the payroll all year round. Nor did relying on freelance or contract workers seem to us to be the way forward. So we decided that our employees would need to become multi-specialists: A printer, for example, can thus also work in warehousing or logistics, the bookbinder becomes a packaging technician and the media designer performs work in printing plate production or in the creative sector. This allows us a certain degree of flexibility for deploying staff in our various departments at peak periods.
How did your staff cope with these changes — how did they react?
While for most of our employees this process was and remains a challenge, it was also seen as an opportunity. Many have discovered entirely new skills — and the job profile has virtually modernised itself and enormously gained in attractiveness. We started on this new path some four years ago, and we have kept on it. Staff are more and more convinced of the benefits of working as a multi-specialist. Another positive side effect is that team thinking has greatly improved. In retrospect I think that the digital transformation is a development opportunity for us and that, thanks to the switch to multi-specialisms, we have successfully made the leap into the new print market rather than — like many other businesses — simply giving up on it.
What role do millennials play in this change and how do they address the issue of work in general?
Millennials have grown up with the idea that technologies and professions are constantly changing. This is not a cause for alarm with them — they in fact see the possibility of specialising in several areas as a positive factor. They generally have high expectations of the working atmosphere, while demanding a clear focus and aim, as well as requiring values. They do not want merely to be a number and they expect a high degree of communication, both internal and external. Appreciation is very, very important for them.
I have the impression that they contribute a very high level of education and plenty of knowledge — it is just that this can sometimes be superficial. If they however succeed in building up a relationship, they feel comfortable and will be committed to the company. This requires a great deal of communication, including a focus on issues that perhaps have less to do with the work itself than with their attitude to life in general. Sometimes I feel that members of Generation Y lack a sense of reality and responsibility. Too often they rely on the notion that "somebody else will do that". They maybe lack — particularly when starting out in the world of work – a certain awareness that you not only have to perform your work somehow, but also complete your tasks.
But I am decidedly against being critical of an entire generation. I see many positive sides — and it is obviously the task of the company and its management to let these shine. For some the entry into the world of work is a rude awakening, and they not infrequently fail to make it in their first or second jobs. In my experience, however, their wide-ranging education, their openness, a certain levity and their optimism all come to the fore — making them undoubtedly a valuable addition to the jobs market.