In between Videojet and Letterpress
Between old and new - between innovation and tradition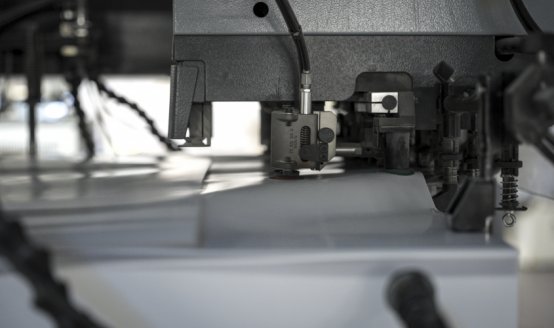 While some people may be familiar with letterpress, videojet probably means nothing to most people. Which makes it even cooler that the blog article is apparently being read regardless - we've made it this far already. I promise I'll enlighten you a bit and hope I'll manage to win over both the knowledgeable and the (as yet) unknowing.
So, to return to the start: letterpress and videojet. Letterpress means (as diligent blog readers, print industry affiliates and book lovers know) "printing under pressure" (everyone else knows now). Thus the term has its origins in the 1450s and can be ascribed to Johannes Gutenberg. The whole concept is therefore very historical. Business cards, invitations, but sometimes also book covers can be refined by letterpress - I realise that refining again sounds somehow historical. It is, but it's still very much in vogue. Hot foil stamping, blind or colour embossing and also colour cutting are popular "add-ons" with which printed products can be additionally "pimp up".
Let us now have a look at the second term: Videojet. Videojet probably doesn't mean anything to most people, and to those who already know it: Chapeau! Videojet sounds very futuristic because of the "jet" and the "video". That is indeed true. Unlike letterpress, Videojet was not founded a few centuries ago, but barely 50 years ago. While the historical letterpress may sound boring and videojet totally exciting, hot foil stamping sounds really nice and coding and marking solutions not so much.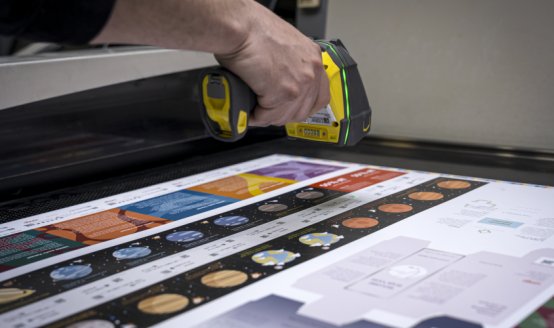 But since we at LONGO are one of the first companies ever to use Videojet on an offset printing press, even numeric codes can become real eye-catchers. The LONGO-Vidojet combination enables us to print high-quality products together with variable data in one print run and at very high speed. But what does that mean? Products printed in offset, high-quality luxury packaging for example, can be printed in a high print run, in top quality. So far so good, nothing new. But with Videojet, each individual packaging can be marked with an individual code in order to be able to trace whether the packaging in the shop is original or fake.
Makes sense? Offset and variable data? Videojet allows us to print variable data (whether it's a QR code, barcode, numeric code, alphanumeric code or any other code you can think of) hand-in-hand with the creative graphics of the packaging, lottery, coupon or other.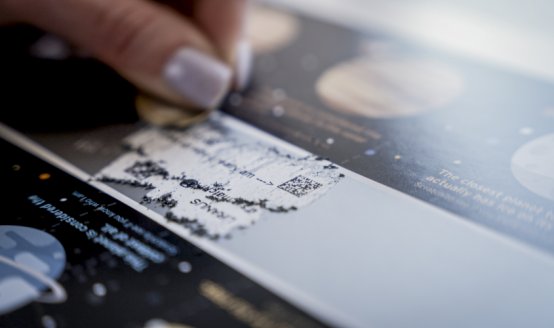 But before getting too technical, what do the two English-sounding terms, which otherwise seem quite contradictory, have in common? Both letterpress and videojet are newcomers at LONGO, they became part of the machine repertoire and present new opportunities for us. Both allow us to individualise a product and make it become unique - each in its own way. Letterpress in an aesthetic-artistic way and Videojet in a technical-analytical way.
Letterpress is about making a product even more appealing and extraordinary. Videojet is about codifying each individual product and making it traceable. As different as they are, they are also highly demanded. To stand out, to be different, to be unmistakable. In a world full of copy-paste, where everyone and everything tries to be super individual and yet often imitates others. That's what happens often on Instagram and that's how it happens with products as well. Fake Gucci bag, fake Prada perfume, even Ferrero chocolate is being faked. You can't be sure of anything anymore. To prevent such things, brands are increasingly providing their products with individual codes (QR codes, datamatrix, barcodes) to protect them from fraud. With Videojet, individuality does not serve appearance, but has rather practical dimensions.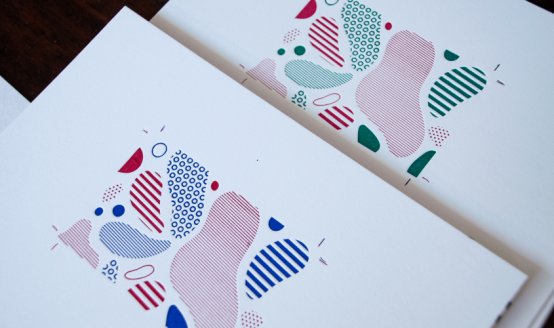 Letterpress focuses on the purely visual. So you could say letterpress is more superficial, although superficial is the completely wrong term, as it goes quite in the deep - in the "deep", because the embossing creates depth on the material. Thus, letterpress makes products individual as well.
So we have two new machines over here, two printing processes that offer us additional possibilities for "individualisation" at our two locations. One optical, the other technical, one in Bolzano, the other in Augsburg, one historical, the other contemporary. So we have no prejudices, old or young, we are open for NEW things 😊